Innovatively employed USB-C on iPad
Since 2018, the USB-C port on iPad allows connections to a variety of devices, more accessories are employed for versatile work and life. With a USB-C interface, iPad greatly enhances the productivity of the device, such as connecting a camera to read photos and videos without an adapter, output to a higher-resolution monitor, and so on. You can also use more other USB-C peripherals, which is a very imaginative thing.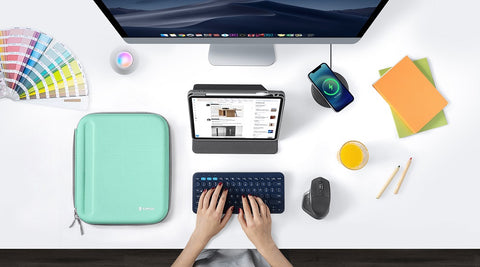 Thanks to USB-C port, charger, cable, USB adapter, keyboard, notes, iPad Pencil, pens and more could be easily connected. An apple pencil alone would greatly facilitate efficient drawing, taking notes, or working anytime and anywhere. Inspiration makes a convenient and beautiful life.
Lat's see what models enjoy a vast ecosystem of USB-C accessories:
iPad mini (6th generation)
iPad Air (4th generation and later)
iPad Pro 11-inch (1st and 2nd generation)
iPad Pro 12.9-inch (3rd and 4th generation)
Inspired by iPad, tomtoc here unveils tailored companion
tomtoc designer team loves versatile work and life mode themselves. A06 series cases tailored for iPad's professional storing and organizing were then born. We would love to design cases either accommodate the device and accessories or accommodate less. Most importantly, just like other industry-leading protective bags and cases, we have the A06 series employ, outside, the best 360-degree protection as well, inside, the smart compartments, and 10 more storage spaces closely holding your accessories on the soft cushion - reliable production is what we are excellent at.
It's never too important to mention the protection for a digital device.  tomtoc provides Military-grade protection: tomtoc Portfolio cases, with a rugged EVA hard shell, have passed the Military-Standard-Drop-Test (MIL-STD-810H: 2019, Test-10 times drops from 4 feet high). This means it prevents your iPad Pro/Air from accidental bumps, drops, and bends when inserted in backpacks or taken in hand. Its inside flexible microfiber lining and soft cushion make it a comfortable home to the device. In addition, the storage space holds tightly the necessary accessories.
Perfection never stops from protection
We offered multiple solutions for different storage and carrying needs.  tomtoc A06 series offers versatile options: Model A06-003 is slim without an accessory panel and space for an iPad charger. A06-002 is slim with an accessory panel, no space for the iPad charger. These two are perfect for easy storing and carrying. A06-005 is slightly thick with independent room for iPad charger, which is both outstanding for storage and carrying.
This isn't the full story. Inspirational color-matching with ten more choices, powered by original design: Avocado, Caramel, Cactus, Mint Sugar, Sakura, Sky Mirror, Mixed Orange and Purple, Black and Gray. Have fun playing color with your iPad.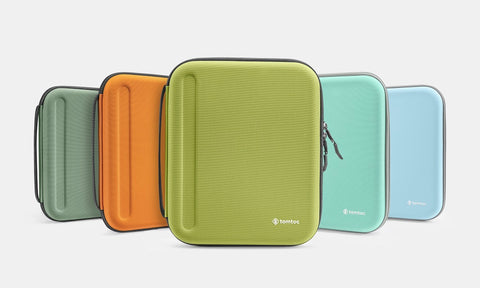 Want to know more about tomtoc? Here you go.